It's Time to Catch up on News from Jamaica, so chuck in we ago deh !
Sadeke Brooks, JA Star Staff Reporter


Ninja Man
The smoke has cleared and Ninja Man has declared himself the winner of the clash with Merciless at the Magnum 'Follow Di Arrow' show.
At the event, held at James Bond Beach, St Mary, the boos Ninja Man elicited seemed to signify his loss. The people sang along with Merciless, declaring him the winner. However, these sentiments are not shared by Ninja Man.
Ninja Man at Cure Fest October 2007
"Merciless dead. Man write off Merciless long time, claim mi victory, change mi clothes, people lift me up and throw champagne on me and mi come back fi show di people dem love and unity and then Merciless come wid him ray ray," Ninja Man told THE STAR.
"Di whole Jamaica see seh Merciless write off. Mi did jus' a chop up tune under Merciless skin. From mi start deejay till me come offstage, Merciless a get kick. Mi nuh matta weh him waan seh inna di last round, cause mi kill him already."
But when Ninja Man returned to the stage, Merciless continued to deejay and, during this time, Ninja Man got many blows, but he said his intention was not to prolong a clash.
"Mi jus' mek him (Merciless) hold him opinion seh a him win. Merciless, if yuh feel like yuh win and yuh feel like yuh bad, come a Spring Break. This time mi a go write yuh off and put yuh out of existence," Ninja Man told THE STAR while noting that Merciless got advice during the clash from his manager.
Feel joyful
However, Merciless is basking in all the glory.
"Then mi nuh must feel joyful and victorious. It was a nice little competition. Mi neva think bout losing. Mi haffi see him run little first then burn out himself 'cause after five tune him nuh have anymore. Inna any competition yuh haffi get a few blows," Merciless said.
Since the show, Merciless said he has been receiving many calls for shows. Hence, he has no intentions of clashing with Ninja Man anytime in the future.
"Right now wi ago gwaan buil and then put out some songs. Ninja Man can neva call nobody name bout war again. Yuh nuh see seh a put mi put weh di junkie fi good? A di wickedest murder when yuh kill a bwoy inna him place," he told THE STAR.
Like Ninja Man, General B of Monster Hemp Higher believes their clash with KipRich was unfair.
"A Alliance show, Alliance crowd. Di people dem did bias and everything, but we give dem we best. We a did di only people weh a nuh Alliance weh did deh pon di stage. Mi nuh expect dem fi give wi di hundred when a Alliance crowd. But weh mi really want is a one-on-one with me and KipRich," General B said.
General B said Ghost was not part of the clash plans and Roundhead was supposed to sing one song and he would have lyrically killed KipRich.
Yet, Monster Hemp Higher's best was not good enough for KipRich.
"Memba dem did mek a statement seh dem a come do dem best but if a fi dem best dat, it nuh good enough fi me. Dem really look like empty barrel, bere hype and then nutten. Mi done wid dem man deh yah now. Mi just waan give mi fans dem some good songs," KipRich told THE STAR.

This photo shows a couple engaged in `Daggering,` a current dance originated in Jamaica; which simulates sex.
CaribWorldNews, NEW YORK, NY, Weds. Feb. 25, 2009:
The President of a New York-based radio station, which features a number of brokered Caribbean and Jamaican programs, has criticized the new rules by the Jamaican Broadcast Commission to ban songs and music videos with a high sexual content.
'Restricting language is only possible in a totalitarian atmosphere,` he added. `Apparently the Jamaican Broadcast Commission wants a world that is uncomplicated, without pain for their children, not obscene, not profane.  But it is a great mistake to blame songwriters, musical performers and broadcasters for the coarsening of the culture which is occurring worldwide.`
`Let the people of Jamaica exercise the only permissible form of censorship – by tuning out offensive material,` insists O'Shaughnessy, `Jamaica should get out of the business of censorship and stick to the vital business of hospitality and tourism for which it is so justly renown.`
WVIP radio is home to such Caribbean programs as Irie Jam and Link Up. On Feb. 21, the Jamaican Commission announced a ban on all explicit references to sex and violence from the airwaves of Jamaica.
Mr Vegas – Hot Wek – One of Our Longtime Favs; this video features Shelly Belly. this is the hottest dance anywhere..

The ban largely targets songs or music videos that depict sexual acts or glorify gun violence, murder, rape or arson. The airwaves ban comes on the heels of the Feb. 6th ban on dancehall dance style, `daggering,` which places emphasis on sexual simulation in dance. `Daggering,` was released last June by Mr Vegas and the video shows the Jamaican singer offering dance classes out of his home.
Caribnews – February 28, 2009

KINGSTON, Jamaica (OPM): Prime Minister Bruce Golding (above) said on Tuesday that the Jamaican government has secured commitments for almost US$1 billion from multilateral sources through to the end of March, as it seeks to maximise the flow of foreign exchange despite the downturn in foreign currency earnings caused by the global financial crisis.
At the same time, the Prime Minister had a word of caution for speculators who were hedging against the Jamaican dollar.
PM Golding addressing the quarterly luncheon of the Montego Bay Chamber of Commerce aboard the Liberty of the Seas in Montego Bay Port. JIS Photo
Golding was addressing the Montego Bay Chamber of Commerce aboard the Carnival cruise liner, Liberty of the Seas.
The Prime Minister reminded his audience that the foreign exchange market is a free market which is influenced by the behaviour of the players in the market.

"If earners of foreign exchange withhold it with the hope that the rate will go up, the rate will go up. If those who needed $100 demanded $200 in anticipation of a rate increase the rate will go up and if foreign conglomerates purchase foreign exchange in the local market to meet demands in other markets, the rate will go up," Golding added.
"The Governor of the Bank of Jamaica has been in discussions with the major players in the foreign exchange market. They have agreed on certain parameters. The Government will do its part. Other stakeholders must do their part. We are all in this boat together and we must navigate our way out of this crisis together. If this collaboration between the monetary authorities and the market players is sustained, we will see interest rates coming down and the exchange rate remaining stable."
Golding said the Government has worked hard to sustain foreign currency earnings from tourism, pointing out that Jamaica recorded a 4% increase in stopover arrivals last year – well below the 13% that had been projected before the global crisis but surpassing most of the Caribbean destinations with which Jamaica competes.
"The prospects for the Jamaican economy are challenging. The economy declined by 0.4% last year. With the continuing fallout from the global crisis, it is expected to decline by 2.2% this year. That is in line with what is expected of the major economies of the world. We will do better or worse depending on the actions we take, the courage we display and the choices we are prepared to make," Golding told the Mo Bay Chamber of Commerce.
sports.theglobeandmail.com – 03/02/09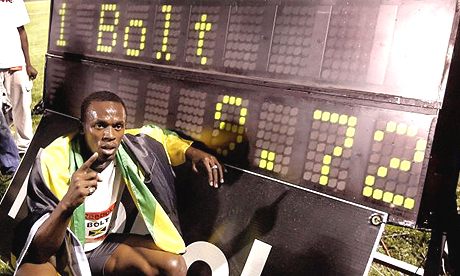 The International Association of Athletics Federations is delighted to see Jamaica's athletes doing fast times — as long as they're not doing it on banned drugs.
The little Caribbean nation was listed yesterday as one of the five most tested nations in IAAF figures for out-of-competition testing released yesterday by the federation's head office in Monte Carlo.
Usain Bolt sets the 100 Meter World Record at the China Olympics 2008
Jamaican athletes, led by the world-record 100- and 200-metre times of sprinter Usain Bolt, dominated the 2008 Beijing Olympics, with 11 medals — six of them gold — in distances of a lap of less. Bolt, who set or shared in four world records last season and won a series of races in Europe, was one of the most tested athletes in the world.
The IAAF didn't reveal names, but of the 697 athletes tested out of competition, 106 were tested more than four times, 46 were tested more than six times, 17 were tested more than eight times and one had to aim at a specimen jar 14 times.
Jamaica was included in the top five tested nations for the 2008 Olympic season, along with four expected names — Russia, Belarus, the United States and China.
IAAF President Lamine Diack said attention has already shifted to nations participating in this summer's 2009 world championships in Berlin.
"We know the cheats do not rest, so neither should we," he said.
"Our doping control program for Berlin will the biggest yet put in place by the IAAF. We will have increased intelligent testing in the out-of-competition period leading up to the championships, better testing during the championships itself, and will store samples after the event for future analysis."
During the competition itself, the IAAF plans over 1,000 blood and urine doping controls, an increase on the 700 tests conducted on track and field competitors during the Beijing Olympic Games. The IAAF will also begin implementing Biological Passports (both blood and urine) ahead of the worlds in August.
JA Star – 03-01-09
Advertisements promoting aphrodisiacs could be next on the Broadcasting Commission's cutting list.
Executive director of the commission, Cordel Green, told THE STAR that the organisation is currently investigating "all products promoting sexual prowess and the appropriateness of these".
Adult nature
He said the commission would be trying to determine "whether they (the ads) are misleading or if they have been approved for the purpose they are claiming and whether the content of the advertisements are of an adult nature and if they are fit for airplay and ought to be broadcast after 9 p.m".
Green said the commission received complaints about the airing of such advertisements on daytime radio and television about two weeks ago. He, however, declined to give names, saying, "we can't single out people to say that we are investigating them. That is not a fair way for any sector to be operating."
Since receiving the complaints, the commission has been in contact with the Advertising Agencies
Association of Jamaica (AAAJ) and the probe is now going through the normal channels of investigation.
Green said the commission will be engaging in further discussions with the AAAJ and other stakeholders like the companies distributing the drinks. He therefore could not say when the investigations would end and said no decision has yet been made.
Sexually charged
Drinks that fit this description and that are being locally distributed include Tantra, Mandingo and Taboo. At least two of these have sexually charged advertisements.
The Broadcasting Commission has featured prominently in the news recently after controversial decisions to ban daggering songs, songs with bleeps, sexually overt soca and hip-hop songs and songs promoting gun violence.